Anchorage MakerSpace Remodel | The Promise Land
Alicia Busick
2D Software , 3d Printing , 3D Software , Activities , Art , Classes , CnC Router , First Friday , Flintknapping , Geek Bazaar , Hackathon , Laser , Maker Events , Maker Faire , News , Papercraft , Robotics
November 13, 2015
Your Anchorage MakerSpace is Remodeling!
Visualization for Future Ideas and Plans: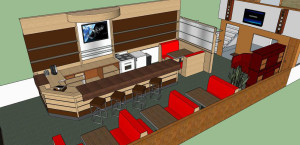 One of the Various Floor Plans Designed in SketchUp.
Opportunities to Help this Weekend!
AMS Renovation | All Hands on Deck! Part II

Tomorrow, November 13th, 2015

at

5pm

–

9pm

Saturday, November 14th, 2015

at

12:30pm

–

4:30pm

Sunday, November 15th, 2015

at

12:30pm

–

4:30pm
Location: Anchorage MakerSpace
Come Help the MakerSpace Renovate!
Part II – AMS Wall Painting Touch-ups
Help is needed to clean, sand, and patch a few walls!
Any help is appreciated! Wear your favorite painting clothes!
Thank you for making the Anchorage MakerSpace an amazing place to be!!
Go To Top